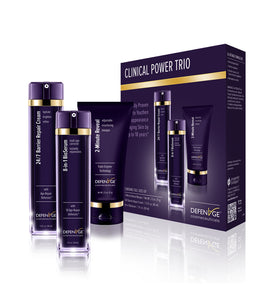 Defenage Clinical Power Trio
Regular price $285.00 Sale
RADICAL ANTI-AGING SYSTEM
We infuse each formula of the Clinical Power Trio with a fine collection of high-functioning, eco-friendly ingredients and multi-action age-correcting technologies to reverse visible & textural aging on a global scale – regardless of age, ethnicity or skin condition. Results begin within minutes.
---
KEY PERFORMANCE INGREDIENTS & TECHNOLOGIES
Age-Repair Defensins™ 
Powerful, synthetically-produced messaging defensin peptides featuring a stand-alone breakthrough NATURAL mechanism of action. Patent-pending and EXCLUSIVELY available in DefenAge™ Skin Care.
Niacinamide
Soothes, revives skin's natural moisture barrier, renews the feel of skin firmness and elasticity, brightens overall skin tone. 
Hyaluronic Acid-Liposome Encapsulated
Promotes hydration and improves texture for remarkably smooth even skin. 
Sea Whip
Keeps skin calm. Strongest, fastest, most effective soothing ingredient from the sea. 
Special "know-how"-protected fine blend of antioxidant- and hydrating technologies and enzymes.
---
DefenAge products do NOT contain:
Parabens or Formaldehyde-releasing preservatives, Sulfates, Irritating acids or Abrasives, Strong emulsifiers, Chemical sunscreens, Mineral oil, Petrolatum or Paraffin, Colorants, Phthalates, BPA, BHT/BHA, Propylene Glycol, Triethanolamine, Gluten Ingredients (no wheat, oats, barley).

Free from Animal- or human- derived ingredients.
Not tested on animals. Dermatologist-Tested.